Liken the Scriptures - Behind the Scenes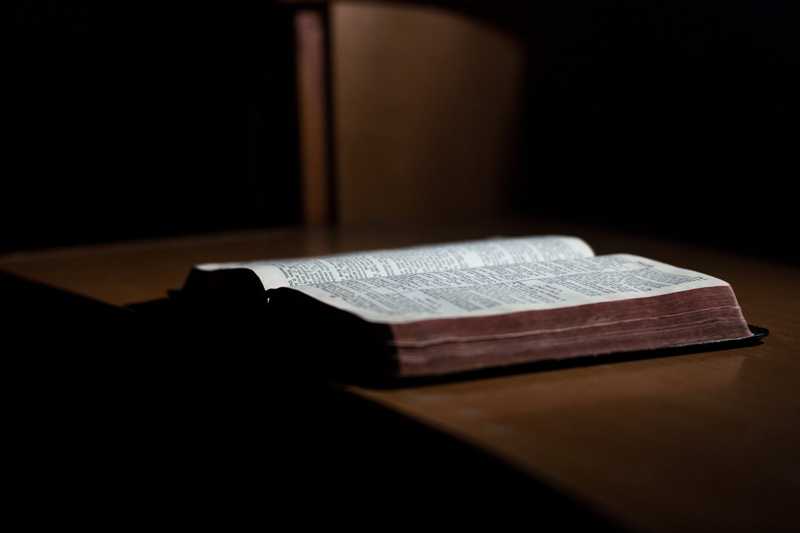 (This is part of a two part interview with Kenneth Agle. Click
here
for Part One.)
* * *
C.S.:Tell us about your newest release, "The First Christmas". What touched you the most during production on this one?
KEN: The manger scene was something I'll never forget. We tried to create an feeling of reverence in the studio on the day when that scene was being shot. To us, it is so sacred that we really wanted the spirit to be felt. I think if you watch the scene you can see the emotion even in the eyes of the actors. It was so special.
C.S.: Please go on.

KEN: You can tell that I like to talk and if I spoke about all of them I could fill a book. But, I'm reminded of Episode 2, Ammon and King Lamoni. This episode represented an amazing sacrifice since we were financially struggling just to make it and people were pushed hard to accomplish this episode. It was a grueling shoot, but was also so exhilarating.

Ken Eklof (Father Lehi and other roles in our movies) is also our set designer. He built this amazing set for Ammon that included a waterfall. Well, after the filming ended for that set, we had to "strike it" and turn it over to the next set. We didn't finish until around 2 a.m. that day and needed to be filming around 9 a.m. the next. I remember all of the help we received in accomplishing that effort from people that weren't being paid to do it. That spirit of camaraderie permeates our cast and crew even now. It is a great thing. A sort of Zion type filmmaking.
C.S.: Truly amazing. In fact, where did you do the filming for the majority of the episodes?
KEN: We filmed the first two at KJZZ in Salt Lake. The last three have been filmed at our studio in Provo with the "bookends" (the modern day portions) shot on location from Mapleton to Farmington, Utah.
C.S.: Pardon the cliché, but from what I've heard, your product really has been taking the members of the Church by storm and eased their ability to share the gospel with friends and even family. Why do you think that is?
KEN: We have wonderful supporters and very few detractors. We know that our movies aren't perfect, but I think people watching them know that they're sincere and they give us some latitude for our weaknesses. We are working hard to get better and think people just feel that they can get behind our little movies. Plus, the music is very infectious in a great way. Aaron writes amazingly "sing-able" songs. I think "The First Christmas" is a great DVD with a message any member of the church can share with any person and feel that the story can help anyone.
C.S.: You have some amazing actors who have joined your cause. For example, T.J. Young has performed in many touring Broadway productions, both nationally and internationally. Katherine Nelson is one of the most recognized LDS female vocalists on the market. There are others equally as talented. Thurl Bailey, for example. Yet you also have opened up your studios to individuals without tremendous studio experience. For individuals interested in auditioning for future films, where can they go for more information?
KEN: We have auditions at our studio all of the time. In fact, we're having an "extras" audition for Esther coming up soon. We need about 90 extras and we even pay a little (very little, but some have said that coming to a Liken shoot is the equivalent of EFY for adults). We are also planning on going around the country and holding auditions. We want talent from all of the country and eventually all over the world. Our website will always provide details on upcoming auditions.
C.S.: You've also come up with a terrific kit for stakes who would like to involved their youth in an activity that build and strengthens the youth. Will you tell us a little more about that?
KEN: I love this product. Next year we will release "The First Christmas" musical in a box along with the existing "Nephi and Laban." You can watch our movies and realize that they were meant to be performed on a stage (with some modifications, of course). We think it is a great opportunity for any stake/multi-stake to have some wonderful fun. And, they're royalty free opportunities.

We even are thinking of releasing a Musical in a FHE (family home evening) for a family that will be a month long of activities building up to hosting your own musical for your family. This will teach kids a lot of the elements in making a musical. Then, get out the camera, Mom and Dad (or Grandparents if Mom and Dad are in the production), and shoot your own Liken. I'm excited about that!
C.S.: Christmas is coming – any helps for those who may be thinking about giving these as gifts? I know I am giving them to my nieces and nephews, but for those who have not seen them?
KEN: Our website has a new "screening" room that is a lot of fun. It describes our episodes and gives a better insight into what we're doing. They are fun to give to anyone especially if they love music. We have a few new items also on our website including "Line upon Liners", which you have to see to truly appreciate. We also have specials going all the time.
C.S.: What are your plans for the future?
KEN: For 2006, we hope to make some amazing new announcements. Liken will have 4 new episodes including Esther in March. We hope our grassroots efforts grow exponentially as we know that word of mouth is the key to our success. We're not for everyone, but we hope we're for everybody who is looking for something good.
C.S.: I, for one, am grateful for individuals like you and your team who are working diligently to bless the lives of others with talents given them. So here's a question. What keeps you going day by day, even during discouragement – for I'm sure you've had discouraging days during all of this.
KEN: I think we all know about discouragement, but I think each of us knows inherently that we are loved by our Heavenly Father. I have felt these past few years that I was being watched over and that it would work out. I have been amazed not at our success or our lack of success, but at the perfect level of success that we have achieved. Although I can't quantify the number, I believe we have sold just enough to keep ourselves going and never more. Sort of like business manna. While we have had some disappointments they always seem to be followed by opportunities. I have seen this pattern enough to know that it is divine.
C.S.: What has been your feeling watching these fine actors bring to life all of your great efforts?
KEN: I never truly appreciated an actor until I saw one work. Larry Bagby, who is Laman in our first movie (and is featured in the new release "Walk the Line"), showed me the power of the actor. He simply took what was written to levels you didn't dream of. That is what actors do. I've seen it now dozens of times. Great actors and actresses are life itself.
C.S: Aaron Edson has brought to pass the most amazing music for these episodes. What has been your experience working with him on this project?
KEN: Aaron Edson is a wonderment to me. Here is a guy who basically wrote the music for David and Goliath over the weekend. A guy who can compose original pieces while he plays and was near deaf at birth.

He combines an amazing talent for music with an even greater ability for lyrics and then matches the entire process with the genius of his computer skills. If you want to see musical genius just spend some time working with Aaron Edson in a regarding studio.
C.S.: Thank you for taking all this time with us. Just a few more questions for my readers about something else quite fun you have come up with. You've created a delightful activity, called "Liken Parties". It's sounds like so much fun! Please tell us a little more about that?
KEN: A "Liken Party" draws on what we feel is our best resource, our fellow lovers of Liken. I'm a pretty big fan of the series and I love to watch our movies. They bring a smile and touch my heart. So, when someone else feels that way and invites their friends to experience Liken we know that we have our best chance to reach another Liken fan. :0)

The "Liken Party" is a way to reach out beyond our normal circle in an easy manner that is a win-win for everyone. Through a Liken Party, friends gather and our hosts share the Liken series in a fun manner without pressure yet can earn some income or share some savings or a bit of both. It can be a great deal of fun.
C.S.: Any final thoughts or favorite scriptures which have helped focus your life toward Christ and building his kingdom?
KEN: When I think of Liken and the scriptures, I'm actually drawn to something that most of us memorized at one time in our lives, but have probably long since forgotten. Yet, its message rings true. It is the 13th article of faith: We believe in being honest, true, chaste, benevolent, virtuous, and in doing good to all men; indeed, we may say that we follow the admonition of Paul—We believe all things, we hope all things, we have endured many things, and hope to be able to endure all things. If there is anything virtuous, lovely, or of good report or praiseworthy, we seek after these things.

With all my heart, I hope people will seek after good things. There is so much that isn't good in this world. We have a responsibility to earnestly seek good things. While I do not write this thinking that our series is anywhere close to perfect and there are things that I wish we could have done differently, I know that the people involved are good and that they truly meant to make something good. I hope others will see that. Thank you so much for giving me this forum and for your thoughtful questions. If any of your readers ever want to talk please feel free to contact me.
C.S.: Thank you, Ken! You have been most gracious to share with us so many interesting facts. Personally, I can't wait for my kids to open their DVDs come Christmas morning. For those who are interested in learning more, feel free to visit the Liken the Scriptures
website
and explore the screening room to catch a glimpse into these delightful DVDs.
You Should Also Read:
Liken the Scriptures website
Information about The Church of Jesus Christ of Latter-day Saints

Related Articles
Editor's Picks Articles
Top Ten Articles
Previous Features
Site Map





Content copyright © 2023 by C.S. Bezas. All rights reserved.
This content was written by C.S. Bezas. If you wish to use this content in any manner, you need written permission. Contact C.S. Bezas for details.